Home loan finance - How to get a home loan.
Buying a property and applying for a home loan finance can seem daunting and overwhelming, especially if you have never done it before. When applying for a home loan, you need to determine what documents you need, how long it takes and under whose name the property deed will get registered. While all the above can leave you feeling discouraged, we will provide you with information that will enable you to start the process with confidence.
Even though banks have adopted stricter risk assessment procedures, they have not prevented creditworthy consumers from getting home loans.
Despite these stricter risk assessments, banks still want to grow their good customer base. Banks are, therefore, more likely to offer home loan finance to consumers who have a stable income and a history of making payments on time. In addition to that, the applicants must demonstrate that they can afford their repayments. Before you apply for a loan to purchase your dream home, you should arm yourself with as much knowledge, information, and documentation as possible.
No matter who you are or what you do for a living, we have created a guide to help you increase your chances of getting approved for your home loan finance.
Plan way ahead for your home loan application by beginning your financial planning early.
Plan for bond finance for at least six months before you go house hunting. In addition to saving up for a large deposit down payment and working on your credit score, you need to prove to the banks that your income and affordability will cover the bond instalment. You should have a set budget before you begin your home-hunting expedition and stick to it for the next six months. Do not spend more than you need to during these six months in your quest to finance your perfect home. During these six months, it will also allow you to work on your credit scores.
Work on your credit bureau report and credit score.
Your credit score is one of the most important aspects of getting pre-approved for a bond. A good credit bureau report and bureau score have multiple financial implications, including determining your interest rate, as well as whether you will be pre-approved for home loan finance.
Knowing your creditworthiness in advance of your home search could allow you to fix it, if necessary. Obtaining a copy of your credit report is the best thing you can do, even if you believe your bureau report and scores are good enough for a bond pre-approval certificate. That way, you can review your credit scores carefully for any adverse listings.
Improving your credit score can sometimes be as easy as removing paid adverse listings and disputing credit bureau listing errors. If you catch them late, you may not have time to fix the poor listings before applying for your home loan financing. While you are attempting to finance your dream home, we recommend that you, as a precaution, hold off on searching for other non-bond credit facilities. A high number of credit checks might affect your credit score, which will be damaging when you are ready to apply for a bond.
For you to make informed decisions, you must know everything about your financial situation. If you have any concerns about your credit report or limitations, feel free to contact us. We are seasoned credit bureau specialists, and we will be the best ally in your credit clearance journey. We have hundreds of excellent reviews, are affordable and, most important, we care. To apply online for our credit bureau clearance, please click the picture below.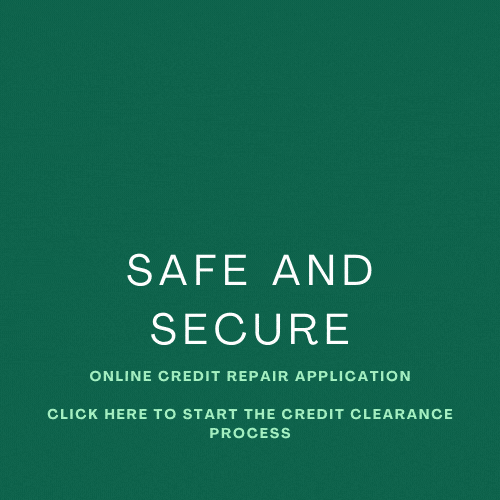 Get rid of any low balance debts and payday loans.
Apart from low scores, accounts more than 30 days in arrears are the number one reason a bank declines a new bond application. Pay off any adverse accounts and close all payday loans.
If you have a high balance debt, consider paying it off before you buy a home.
Make yourself a more attractive applicant, and you will get your finance approved for higher amounts at lower interest rates. If you have low debt-to-income ratios with all four major credit bureaus in South Africa, you will have a better chance of succeeding with your home loan finance application. Pay down high balance debts before you approach all the banks for home loan finance. Consider cutting your expenses and paying more into your high balance debts. The result will show an acceleration in your paying off these debts.
If you cannot afford the repayments on your high balance debt, take action before your credit score suffers. Debt counsellors can negotiate lower interest rates and reduced monthly payments on your behalf if you are borderline over-indebted. As a result, your debt will be more manageable, and your credit score will not be negatively affected during your search for a property. As you pay off your high balance debt, you will not be eligible for a bond if you use the debt review process. While not having access to credit is perceived by many as a negative attribute, paying off high balance debt remains a vital step in becoming a homeowner. Contact us and find out if the debt review process can be beneficial to your situation.
Stable employment is essential.
There is nothing that can replace the impact of having a stable employment history. Whether you are an accountant, an attorney, or a receptionist, you must prove to your bond lender that you have been in your position for at least a year or two.
During this period, looking for other employment opportunities is not recommended. Consumers currently unemployed are unlikely to get bond pre-approval in place, as banks want to see financial stability. Consider holding off on the job hunt until after you have successfully secured your bond finance. If you don't have a stable employment history with the same employer for at least one year, start as soon as possible.
Pre-approve your home loan financing early.
Getting pre-approved for bond financing is different from getting pre-qualified. A bond pre-approval involves approaching a bank and asking for a bond pre-approval certificate. You will use this certificate to obtain financing in the not-too-distant future. Using your credit score, employment history, and current financial situation, the bank will determine the amount you can borrow for your home purchase. In the case of a successful pre-approval, you will receive a pre-approval letter that you can use to bargain when buying your home.
You should consider getting pre-approved or qualified early in your property search if you want to be ready to make an offer as soon as you see a property you are interested in purchasing. With your pre-approval, you will be able to move fast once you find the right property. A real estate agent may also ask you to fill out a pre-approval checklist form before helping you with your application process. Having a bond pre-approval in place first will demonstrate that you are serious about buying and ready to start applying for home loan finance right away.
Prequalifying for a bond. What are the advantages?
You can begin house hunting within your appropriate price range when you know what you can afford.

You will appreciate that you have improved your credit profile and have an excellent credit score. For your bond application to be approved, your credit score should be at least six hundred. If you have a low credit score, you need to work on improving it. In point one, we talked about how we can help you improve your credit report and score. Contact us today or apply online for our service here.

When a pre-approved buyer shows the seller that they have done their research on what they can afford, the offer from the buyer is more appealing to the seller, and you will have the power to negotiate to lower the selling price.

A pre-qualification for a home loan means understanding your credit profile and what you can realistically afford in monthly repayments. Unfortunately, a pre-approval does not guarantee the bond will be approved, but it shows you how much the banking institution will consider funding a bond. As an added benefit, you will be able to shop within your affordability price range when you are looking for a house, thereby avoiding rejections based on affordability.
Guarantee your home loan approval with a fully guaranteed certificate.
To ensure your offer stands out from other potential buyers, you might consider asking your bank for a fully underwritten finance pre-approval certificate. As a result, not only will the process of home loan approval be faster, but it will also demonstrate your seriousness as a buyer who has already been credit vetted.
This pre-qualifying process involves a bank evaluating your credit history, credit score, income, debts and determining how much you can afford. The bank will issue a pre-qualification certificate which you can use to show sellers you have been pre-vetted. If your financial situation and creditworthiness have not changed since pre-approval, and you meet other conditions, you will receive your home loan approval in principle very quickly.
Make sure you are honest when applying for a home loan finance pre-approval.
The home loan pre-approval application should not contain any false or misleading information! In the bond application stage, the lender will rigorously evaluate your financial and employment history so, any fabrications you do during the pre-approval stage will stand out.
Deposit.
It is often difficult for buyers to come up with a suitable deposit during the buying process. However, if you can make a larger deposit, such as twenty per cent or more, compared to the usual ten per cent deposit, you will have a better chance of getting your bond approved by the bank.
A substantial down payment can show lenders you are serious about buying and have the money to prove it. The following are the benefits of paying a substantial deposit during the home loan application.
Sellers will prefer your offer to purchase.

The amount of financing required for bond approval is less. Saving twenty per cent of a properties price as a deposit, for example, would allow you to pay twenty per cent off the purchase price immediately. As a result, you borrow less from the bank and incur a whole lot less interest throughout the loan period, which can add up to a substantial saving.

In addition to making your offer more attractive to lenders, a substantial deposit down payment can also reassure sellers that your financing is secure, which could increase your chances of getting the home.

A substantial deposit will show the seller and the bank that you are serious, and in the process, you will

reduce your monthly repayments and qualify for lower interest rates.
Prove your financial stability and affordability to repay your bond instalment.
While assessing whether you qualify for a loan, banks look for evidence that you will be able to repay the new bond instalment without defaulting.
It is possible to improve your chances of qualifying for your new bond by demonstrating your financial stability. The following indicators are signs that you are financially stable:
Currently, you do not have much debt on your active credit lines. For instance, your credit card has a credit limit of R10 000, but the outstanding balance is only R3000. This account reflects that you do not use credit actively.

Payments to your active accounts get paid on time without any missing indicators.

You can limit your spending when needed.

You have a good repayment history with past creditors.

Banks like to see a good repayment history on historical accounts which indicates responsibility and consistency.

Every year, your net worth grows. There is a steady, constant increase in your net worth. Your investment portfolio should increase due to your savings, regular investments, and good returns on your investments.

You will be able to pay for your monthly living expenses without relying on credit cards and payday loans. Credit cards and payday loans are common ways for financially unstable people to survive until the next payday. Not depending on these financial instruments indicates that you are financially stable.

Your cheque account never gets overdrawn. Despite an overdraft on your cheque account, you still show that your account always has room for movement, rather than relying on the overdraft. Moreover, you never go over your overdraft limit under any circumstances.
Once the hard work is over, it is now time to complete the home loan application.
You have now made an offer on your dream house, now is the time to apply for finance. Start by sending your application to the bank that granted you a pre-approval bond certificate. Next, contact all the other banks in South Africa or fill out their online bond applications. It is easiest to apply for home loan finance with a reputable bond originator who will handle the application process for you with the banks.
You should know what your options are when it comes to the different bonds available.
Essentially, there are two options when it comes to home loans. In the first place, you can use a traditional or ordinary bond to buy an existing or newly constructed residential property. The second option is a building loan, which gives you the funds to build your new home. Alternatively, you can use a building bond to make improvements or extensions to your existing home.
Which applicants are eligible to apply for home financing?
Every home loan application will get assessed individually, so whatever type of job you have, you must show your bank that you have a stable, steady, and reliable source of income necessary to repay the bond instalment monthly.
The bank will consider the following factors when evaluating a bond application:
Credit history and credit scores

Employment history and income

Monthly living expense costs and how much money you have left for a bond instalment.

Value of the property and its asking price.

Amount of deposit available as a down payment. Putting a substantial deposit down will increase your chances of a positive outcome. However, saving up for a deposit, whatever type of home loan you are applying for, is still arguably the best way to improve your chances of getting the finance you need from your bank.
How to apply?
The following section will be helpful if you prefer to deal with the banks directly rather than using a bond originator. Despite some differences in the application processes of various banking institutions, you can generally choose from the following options:
The lending institutions website online application process.
Online bond applications are available from all banks and non-banking institutions. The online tool usually includes an instant credit and affordability check, so you will know what sort of price range to look in immediately. The decision will be sent to you within a few hours after you submit your application. You can visit the following institutions to do an online home finance application:
The lending institutions branch.
The majority of banks will help you through the home loan application process in-branch.
Documents needed for an assessment.
You will find that the requirements for each bank vary depending upon your circumstances or the property you wish to purchase or build. The following documents are generally required:
The application form for the home loan must be fully completed and signed by all applicants (single or joint applicants)

The bank will require a comprehensive outline of your monthly income, deductions on your pay slip, living expenses, assets, and liabilities.

Copies of your identity documents. Include both sides of your ID card.

The banks will require stamped bank statements for the past three months and self-employed individuals for the last six months of bank statements.

Three months' worth of pay slips. Audited financials for a year or two for self-employed individuals.

Marriage certificate

If you receive maintenance income, please provide the bank with your three most recent bank statements, originals stamped by the bank branch, reflecting the maintenance payments. For their records, the banks will also require a copy of the court order.

As a last step, the bank will need a copy of the signed offer to purchase.
Conclusion
Having the necessary information is key to getting home loan finance to buy your dream property. Follow these guidelines, and your home loan finance application will be much more likely to be approved. Sadly, some people cannot qualify for a bond, and some are unlikely to have the mitigating factors, such as a ten to twenty per cent deposit down payment, to be eligible for finance.
If you have a poor credit report, it need not stop you from owning a home. Poor credit history is only one piece of your overall financial picture. If you have the income and savings to afford a home, buying may be the right choice for you. For assistance with clearing your credit reports and improving your credit scores so you can qualify for bond finance once again, contact us today. With our help, support and guidance, you will be able to become a proud homeowner once again.
Sources - Other good reads