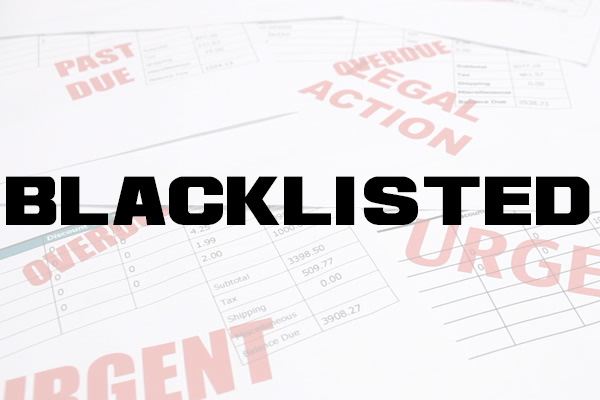 Blacklisted
What does it mean if you are blacklisted? In general, when you are blacklisted, you are ostracized from certain groups, and you have certain privileges taken away from you. This translates in the financial world, so if you are financially blacklisted means your credit is frozen, you are unable to get a credit of any kind.
The various Credit Bureaus in South Africa will report to credit providers if you have defaulted on any accounts. As Blacklisting is a frequently used term in South Africa, we want to make it clear that there is NO register or a list of names of people who have been blacklisted.
Now there are about twenty-five million people who have defaulted on their credit agreements and consumers who have defaulted on their credit agreements believe that they are now blacklisted in South Africa. In short, it means that you have been listed by the credit bureaus as someone who struggled or is currently struggling to repay your debt. You have shown over a consistent period that you aren't able to repay your debts.
You won't be able to apply for any other form of debt in South Africa. Lenders will search your record when you apply and realize that you are blacklisted. Lenders don't usually offer loans to people who are blacklisted. But that isn't the only thing it affects.
Not sure whether you have been blacklisted or not? Contact us today, and we will do a complete investigation into your bureau profile.
Is ITC Blacklisting Legal and what is a Credit Bureau?
In our other article named Blacklisting, there is no blacklist file, or a consumer is not blacklisted. The term blacklisting implies that you have adverse information on your credit report at the various Credit Bureaus in South Africa. These adverse can be in the form of the following listings
Overdue payment collections

Judgment information

Debt counselling indicators

Defaults

Trace alerts
This adverse information will affect your capacity to get new credit, loans, home loans, vehicle finance or open retail accounts. This adverse behavior towards your current credit obligations gets viewed by the credit provider and gets assessed in your ability to repay any new loan.
Credit bureaus are organizations that maintain a record of your credit information. Your credit record demonstrates how you will handle your debt obligations. Credit providers will use your credit report to decide whether you can afford new credit.
The National Credit Act requires that each credit bureau gets registered with the NCR. The NCR is a watchdog who decides how your personal information on the credit bureau gets used.
As there is no blacklisting file out there the credit bureau has an obligation to document all good and bad information for credit providers to make informed decisions.
If there is no blacklisting or blacklisted, then what is the role of a Credit Bureau?
Credit Bureaus are organizations that gather credit histories, document it, and keep track. Credit bureaus play a significant role in assisting companies and banks to decide whether a consumer applying for credit, or a loan is going to be able to pay back the cash they borrow.
In South Africa, the main Credit bureau are
Compuscan

Experian

XDS

TransUnion
What are Your rights regarding a Credit Bureau?
To get a copy of your credit report when requested.

You are entitled to Confidentiality

One free credit reports a year

You have the right to challenge any information held at the bureau