Help me rebuild my Credit score with Credit Clearance and credit bureau Clearance.
Life is so much simpler and easier with a good Credit Score and to have a good credit score you need Credit clearance, ITC clearance or credit bureau clearance. So, you've missed a couple of payments to your credit providers due to unforeseen circumstances, don't worry it happens to everyone at least once in their credit active lifetime. Due to these skipped payments, your credit score took a beating. Now you need to work on Credit clearance and IT clearance as well as improving your credit score. Obtaining any type of credit can be nerve-wracking especially if you skipped a couple of month's debt repayments. Most consumers worry that they won't qualify for a much-needed loan. Many consumers don't know what they can do to improve their chances of getting that credit card, personal loan or even home loan finance.
Even though you may have produced a plan, implemented a budget, got a much-needed salary increment or got some extra cash to settle these outstanding debts, the sad news is that your credit score would still not show any improvement overnight.
The good news once you've committed to settling your debts, the rebuilding of your credit score begins. You will get Credit clearance and ITC clearance and a credit report you can be proud of. Each consumer's credit score consists of several factors and each credit bureau has its credit score matrix. All registered National Credit Regulated (NCR) credit providers use credit scores as a prediction of how likely consumers will be able to pay back a certain credit agreement. The higher the credit score is, the higher the probability is that the credit applied for will be repaid. A lower credit score will show to the credit providers that the credit applied for will default on.
Increasing Credit Ratings and Credit Scores
Everyone is always aiming to enhance oneself, and why not? Self-improvement is a fantastic thing.
You end up being a much better public speaker and you go to the gym to lose a couple of kilograms. You increase your credit score to give yourself the best opportunity of buying a house or car on credit with low-interest rates.
When you apply for a personal loan, a revolving loan facility, houses, or cars your credit rating will make or break you. That is why you must take action to increase your credit score. Below are some ideas to assist you in increasing your credit score. Follow the ideas below and you are on your way to getting credit at will and you will have the power for fantastic money-saving purchases:
Rebuilding your credit score starts with these main factors:
Remove adverse information as soon as possible by using our Credit Salvage credit clearance service.

Always use credit responsibly

Pay your debts on time with the full amount due, as paying even one cent less affects your credit score

Pay off debt as soon as possible

Keep balances low, especially on retail store cards and credit cards with a credit limit. Exceeding these limits affects your credit score

Create a strict budget and a repayment plan to pay off your debt

Remove adverse information as soon as possible using our credit clearance and ITC Clearance services.

Make use of our credit clearance service and increase your credit score with each listing we remove and update.

This is the first step in rebuilding a healthy credit score with ITC clearance and credit bureau clearance.
Thanks to our new online credit clearing application, ITC credit bureau clearance and debt review removals are now simple and easy. All you need to do is click the image below, fill out our online application, and we'll take care of the rest.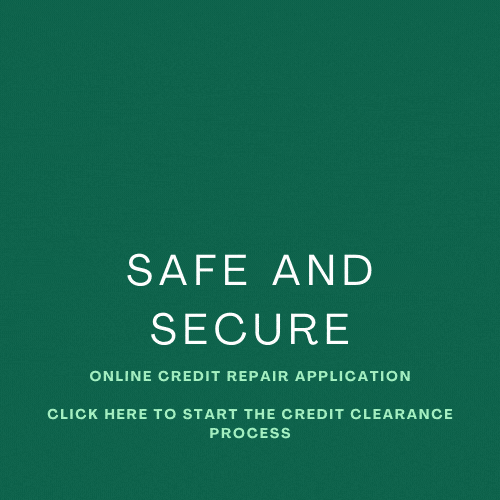 Using credit in a responsible manner - Credit bureau clearance:
Credit providers will investigate affordability and will scrutinize your spending behavior and affordability.
You need to show credit providers that you are responsible for your money and that you can afford any new credit. Your repayment behavior to all your debts needs to show that you are responsible with your finances.
Paying your debts on time with the full amount due - credit bureau clearance:
The most convenient method to increase credit scores is to pay your accounts and debt obligations every month and ALWAYS pay on time (not even ONE day LATE). Prevent overdue payments at all costs. Paying late, not paying, and short payments have the biggest negative impact on your credit score
Showing that you are at minimal risk starts with your financial behavior and how you approach your current debt. ITC clearance or credit clearance cannot happen if you don't pay your debts on time with the full payable amount due. Paying even one cent less will affect your credit score. Stop orders, Naedo and Aedo debit orders are simple ways to ensure you don't skip any payments. Ensure these debit orders get paid each month or you will start having a bad record with your bank. Paying your creditors on time will ensure your ITC clearance and credit clearance will be easy to do.
If you find yourself in a demanding situation and you realize you cannot afford your debt, make arrangements as soon as possible. Having no plan and not addressing the issue will result in drastic consequences to your credit score and future credit applications. Credit clearance and ITC clearance will be harder to achieve. Contact us for our Credit Salvage Debt Counselling and Debt Review services. This will stop your credit score from taking a beating while you struggle with debt. We also offer ITC clearance and credit clearance services.
Paying off debt as soon as possible
If you receive a 13th cheque it is advisable to use as much of this extra money to pay off existing debt.
For consumers who are in debt and cannot escape without help, please do not hesitate to contact us for our Credit Salvage Debt Counselling and Debt Review services. We will produce an aggressive strategy and solution to get you out of debt. We will negotiate a single manageable repayment instalment with reduced interest rates. This is the best way to start working on improving your credit score and ITC clearance. Sticking to plan, staying motivated and committed to settling debts will ensure credit bureau clearance.
Inspect your credit reports with all the credit bureaus at least once or twice a year.
The info in your credit report forms the basis of your credit history. If your credit rating is low the question, why you always get declined credit lies in your credit report
Any mistake in your credit report will show itself in your record as a low credit rating. That's why it is recommended that you examine your credit report once or twice a year.
Develop and maintain credit scores with time.
Rome wasn't built in a day. To increase and maintain your credit score, time and history are vital components. Having a long credit report with a good record of accomplishment of well-maintained accounts will affect your credit score. Not having a long credit history will suggest you are a riskier consumer. Accounts to avoid one-month loans, payday loans and pawn transactions.
Debt Counselling and Debt Review
Debt Counselling and Debt Review are great and smart solutions if you find yourself with too many debt instalments to pay each month. This service is an alternative to increasing credit score and ITC clearance with credit clearance. Debt counselling and Debt Reviews process include the debt counsellor to renegotiate reduced instalments with all your credit providers. Reducing interest rates forms part of the process. With a reduced monthly instalment will ensure you will have enough money for living expenses, school fees and unexpected life disasters which will crop up from time to time.
How long will it take for me to rebuild my credit score?
Payment profiles held by the credit bureaus like TransUnion, Experian, XDS, Compuscan, as well as other smaller Credit Bureaus, stay on your credit report/credit profile for 2 years. You can improve your credit score before those payment profiles get deleted from your credit report/credit profile. The older those payment profiles get; the less adverse information will hurt your credit score. Especially if those delinquent accounts got settled and updated. The amount of time it takes for your credit score to start improving will depend on the factors mentioned above but the credit score will improve. It is wise to keep at least one of your credit agreements open. Pay the account due every month with no skipped payments. Not skipping any payments will assist in increasing your credit score points and will ensure that the goal of credit bureau clearance is achieved.
Seeing an improvement in your credit score rating can start anywhere between four to six months. Consumers with a lot of credit agreements that are in default will find it harder to increase the credit score and it will take a bit longer. ITC clearance with credit bureau clearance will take the same amount of time. To ensure you don't find yourself in a situation where you try and improve a credit score rating before entering into high credit purchases or agreements like home loans and vehicle finance, it is advisable to apply for debt counselling as soon as you feel you are struggling or unable to meet your monthly commitments. Our Debt Counselling, Credit Clearance and ITC credit bureau clearance services will ensure you are not left feeling imprisoned by debt.
Contact us today to find out how we can assist in freeing you from your debt with our specialized services at Credit Salvage Corporation SA
Get Debt Help today!
We now offer an easy online application for credit clearance, ITC credit bureau clearance and debt review removals. Just click the image below, complete our online application, and we'll take care of the rest.
More insightful links and articles:
Other Links worth mentioning Credit regulator