How to Clear Your Name with the Credit Bureaus in South Africa
Have you ever wondered how to Clear Your Name with the Credit Bureaus in South Africa? Here is an article that may be helpful if you are looking for credit bureau clearance. Did you know that the average household debt in South Africa is
around 67%
of their gross annual income? While this has decreased from 71% in 2020, it still highlights how the average household manages its finances. South African credit laws are among the most stringent in the world, so people with poor credit histories may have difficulty qualifying for credit facilities.
Your comprehensive credit history gets tracked and kept with a credit bureau in South Africa so potential lenders can look it up when you apply for finance. To improve your financial health, you need to clear your name with the credit bureaus to help improve your bureau report. Want to learn more about how to clear your name with the bureau? There is no need to look any longer since this is the blog you have been looking to find. Here is everything you need to know about the bureau and how to improve your credit report and bureau scores in South Africa.
What Is a Credit Bureau?
A credit bureau is a data collection company. This kind of data collection company specializes in gathering and maintaining your entire financial history. While this information is private and sensitive, these data collection companies usually have special permission to collect and keep this information about you.
These data collection companies have the right to request data from banks and financial institutions to help build an accurate financial record for you. A credit bureau report record consists of information about your payment history and current payments to existing accounts.
Credit bureaus can calculate a credit score that indicates how likely you are to repay future debts based on this information. Even though they will not be able to know your income level, they will be able to calculate your chances of repaying a new debt based on your past and present payment history. Using affordability calculations, credit providers determine how much credit you would be eligible for and how well you would do with future credit advances or credit limit increases.
The Credit Bureau in South Africa
There are four main credit bureaus in South Africa. The four largest data collection companies are Experian, TransUnion, Compuscan, and Xpert Decision Systems. While Experian is one of the biggest names in the data collection industry, TransUnion is the most well-known
credit bureau
in South Africa, maintaining data on over 18 million consumers.
The first African credit bureau, Compuscan, started operations in 1994. There is no doubt that this company has put immense effort into providing data collection services for emerging markets and has grown to be one of the biggest data collection companies in Africa. It is worth mentioning that Xpert Decision Systems, which has 100% black ownership, is not far behind.
Consumers interact indirectly with credit bureaus. Most people will apply for financing from a bank or financial institution. The bank then approaches the credit bureau to get your credit score and credit bureau report. As a result, your bureau report plays a significant role in determining your chances of getting approved for new finance.
What Is a Credit Score?
Credit bureaus track tons of financial data to create a credit score for you. Credit scores are a
simple metric
to show how good your credit history is. Depending on which bureau you are dealing with, these scores result from several factors. While data collection companies like Experian may use a scale from 0 to 750 to show how good your credit history is, TransUnion uses a scale from 0 to 1000. Thus, a credit score of 700 can be great with Experian while being less than great at TransUnion.
When a bureau calculates your credit score, they check your entire financial situation. Your credit bureau score will decide whether you are a good manager of your finances and not how much money you have in your account. The credit score indicates how trustworthy you are to receive financing, while your income determines how much credit you can afford. Data collection companies will look at how steady your income is and how you spend your money. The most important aspect they look at is whether you meet your debt payments on time. Paying off your debts on time can make you look better than if you do not have any.
This is because paying on time shows the bureau that you can be responsible for your credit. Another significant factor is how much credit you use. If you have access to R10,000 but only use R1,000 every month, it shows the credit provider that you know how to manage your money well and that they can trust you.
Why Is Your Credit History Important?
Credit history is a significant component of the credit score used by credit bureaus to determine your credit score. The payment history includes the current payment behavior as well as the payment history in the past. There is a particular focus on when you are making your payments and when you make them on time.
Late or missed payments can impact on your credit history, while on-time payments show that you are responsible for your money.
Data collection companies understand that people can learn to handle their money better. For this to make sense, it is necessary to realize that they pay greater attention to recent activity than things that might have happened years ago. By doing so, you will have the chance to have your credit record at the credit bureaus cleared, allowing you to start over with an updated credit record.
What Is Debt Review?
Debt review is a comprehensive process that allows you to
take stock of your finances
.
An alternative term for this service is debt counselling, which aims to assist you with consolidating your debts. It also assists with drafting a plan on how you will pay your debt off and putting the plan into action. A debt counsellor will, in most cases, handle this part of the process. They will help you to determine the best course of action based on your situation and create a payment plan that works with your budget.
The purpose of this process is to help you improve your financial health, but it can also be instrumental in improving your credit history at the same time. It may seem that taking this step is not the best option, but it is the best first step toward clearing debt, repairing your credit score, and improving your name at the credit bureaus.
Clear Your Name with the Credit Bureaus - Debt review removal.
There is a possibility that it may take up to 60 months for the debt review process to run its course. The debt review process ends after you settle all debts. You will receive a clearance certificate from your appointed debt counsellor.
You must know that in reference to the National Credit Act, your debt counsellor cannot stop your debt review process at their discretion. It is up to you to decide whether to withdraw from the debt review process by requesting a withdrawal from your debt counsellor. But in some instances, you will still need to approach the court to be declared no longer over-indebted.
There is only one way to withdraw from the process, and that is if a debt restructuring court order has not yet been granted. If that is the case, you will need to have a court declare you are no longer overindebted, and if it gets granted, you will have to negotiate updated terms with your creditors.
Under NCA amendments, consumers can exit a debt review process if they meet the following criteria:
As per the court order, you have repaid all the debts outlined and described in the court order.
All short-term debts listed in the court order, including vehicle financing, have been repaid.
Your home loan is the only debt allowed to be outstanding for you to get out of the debt review process. But your home loan must not be in arrears.
How To Improve Your Credit Score
Improving your credit history is the easiest way to improve your financial health and credit score. If you do this, you will be able to clear your name at the credit bureau, in the long run, allowing you to qualify for more credit in the future. To help you improve your credit score, here are a few tips you can use.
Keep Track of Everything.
The first step toward clearing your name at the credit bureaus is to take stock of your financial situation. That means looking at all your finances to note every account you must pay. This information can help you determine how much debt you owe and how you can plan a budget that will help you pay it off over time.
As soon as you encounter financial hardship, it is vital that you take stock of your financial situation and then plan to pay off your debts. The first step is to sit down and create a plan that outlines exactly where your funds will go, for what purpose, and in what order. But make sure you stick to your budget when you create it. The most challenging part of budgeting is sticking with your budget. It can prove to the bureau and credit providers that you know how to budget and manage your finances.
Catch Up with Past Accounts.
Past accounts can pile up. Because of this, it is imperative to keep track of everything and stick to a budget. But a wonderful way to get ahead with the situation is to settle past accounts as soon as possible. Even if you are not in debt review, consider getting help from a debt counsellor to help you restructure your payments. By restructuring your debt, you can simplify your monthly payments.
Make Your Payments on Time.
The most important thing you should do if you have outstanding debt is to make sure to make all your payments on time. Paying your accounts on time shows the bureau that you are responsible and know how to manage your money. If you usually forget to make payments on time, consider setting up a debit order or setting a reminder to help you keep up to date with payments.
Work With a Debt Management Company.
While debt review is an indispensable part of the debt-reduction process, you do not have to wait until then to get help from a professional debt counsellor. Debt management companies offer a wide range of services to help you regain control over your finances. These companies can help you check your financial health, plan budgets, and even restructure your loans to help you stay up to date with payments.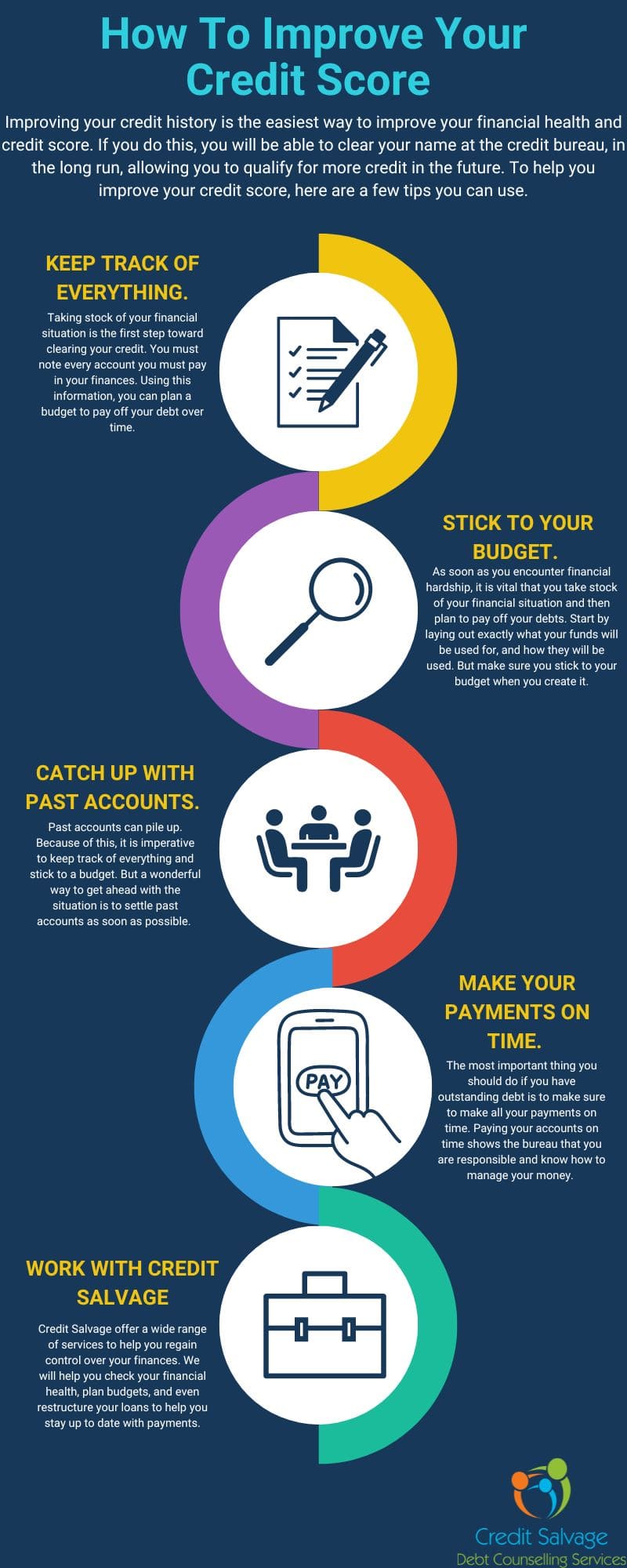 Looking to Clear Your Name with the Credit Bureaus in South Africa but need help?
Taking control of your finances is the first step to clearing your name with the credit bureaus in South Africa. Once you consolidate your debts, you can budget to pay them off on time so that you can repair the damage that has occurred to your credit record. If you are looking for professional help with the credit bureaus in South Africa, Credit Salvage Debt Counselling Services can help!
You are welcome to contact us if you would like to learn more about our debt management services. Our team can help you take control of your finances. We will work with you to achieve the financial freedom and security you deserve!